Our human bodies are designed to respond to natural light. When it is daylight, we stay active; when it is dark, we wind down and rest.
A dynamic lighting control system (3 colours downlight) can help us manipulate our indoor light levels – from daylight to cool white to warm white – to dramatically enhance physical and mental states of children, or even adults with just slightest change of colour temperature.

Our in house LED brand, Ecodo, offers a popular range of 3 colours, dimmable, remote controlled LED Downlights suitable for all homes. It is safety mark certified and comes with a 3years warranty.
Why is dynamic lighting (3 colours downlight) important?
Children (and adults) often have to do multiple activities at homes; such as sleep, play, study, read, work etc. Lighting can help to set the ambience for rest or set the tone for work/study.
A study conducted by South Korean researchers found that students who took a math test under LED (Daylight) were more alert and scored higher than other students who took the test under regular fluorescent lighting. This is because LED (Daylight) mimics sunlight which can help students stay sharp when indoors.
✔️ Daylight stimulates hormone production for alertness and activity – Suitable for intense academic activities such as studying or working
✔️ Cool White "standard" lighting to help keep children's biological clock in sync – Popular for light reading and regular play in the day, helps to facilitate sleep/wake cycle
✔️ Warm white provides a calming and cosy ambience while introducing the mood for rest and relaxation – Best to switch to warm white for later in the day or evening to induce sleepy mood for your child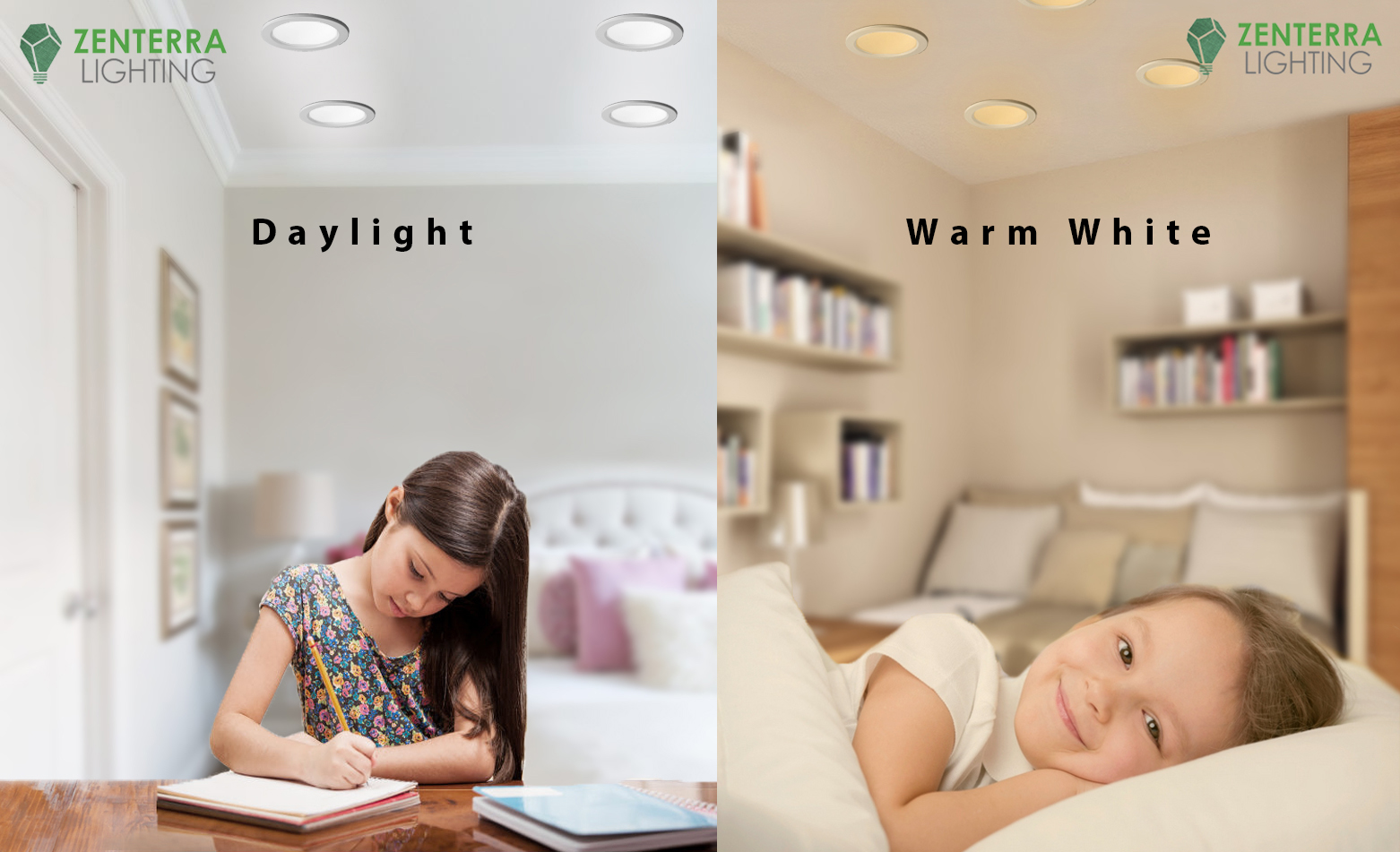 Using dynamic lighting helps to create a conducive environment for your child at all times, for all activities in the comfort of your homes.
Why switch from fluorescent to LED?
✔️ LED does not produce any UV radiation – Prolonged exposure to fluorescent light can subject one to UV-A radiation. Though the radiation is low, it can still penetrate to deeper layers of the skin, sometimes causing allergic reactions (rashes) and potentially lead to skin cancer.
✔️ Risk of electrical fires is minimized – LED emits very little heat and maintains at relatively low temperatures as compared to fluorescent lights, halogen or incandescent bulbs.
✔️ LED is mercury-free – Fluorescent lights are also known to contain the highly toxic chemical, mercury, which can be harmful to the brains of foetuses and children. In the event when the florescent bulb breaks, mercury escapes as vapour that can be inhaled or absorbed into carpets or curtains.
✔️ LED produces steady source of light without flicker – Studies have shown that constant flickers (from worn flurorescent bulb) can cause migraines, eye strain, headaches and anxiety, which can affect your child's learning or even health.
✔️ LED is energy saving – consuming much less power than traditional lighting options and with lower chances of overheating.
Ecodo, Zenterra Lighting's in-house LED brand, offers such dynamic lighting control system with the flexibility of alternating between 3 coloured lights (warm white, cool white and daylight). Ecodo 3 colours LED downlight comes with a dimmable function (for all colours), all at the convenience of a remote control.
Why choose Ecodo LED Downlight?
⭐ Dynamic lighting available (3 colours)
⭐ Comes with a free Safety Mark Certified driver
⭐ 3 years warranty – we trust in the quality of our product
⭐ Up to 3 years onsite warranty – no hidden fees (our competitors charge a transportation fee of $30-$50 when travelling to your homes for servicing. We service your lights at your homes for free!)
---
The article above was extracted from KiasuParents.com